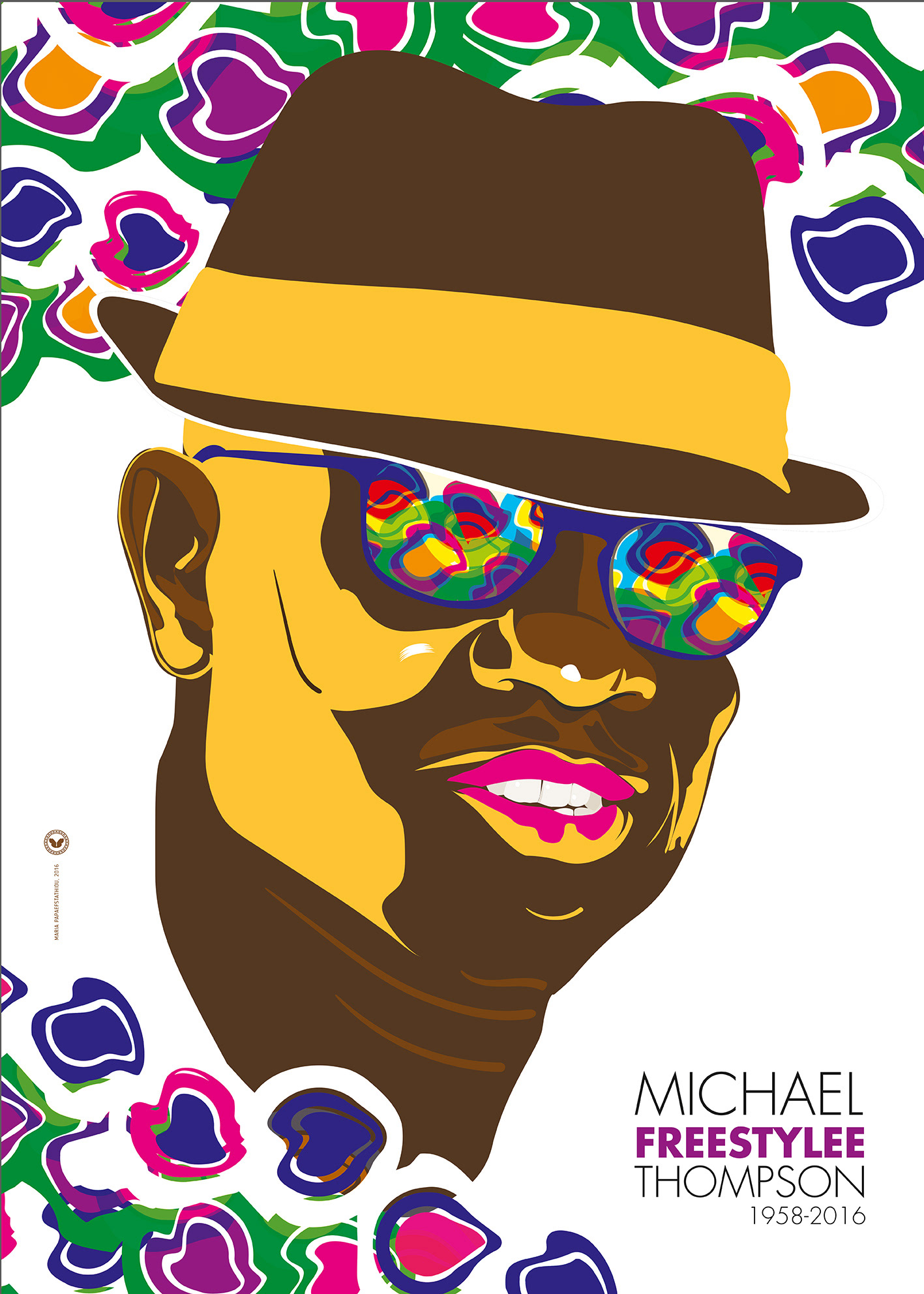 15th August was a very sad day for all the artists around the world as we lost one of the greatest, Michael Thompson.


Some of you may know, some of you may not, that I partnered with Michael Thompson, aka 'Freestylee', to develop the
Intl. Reggae Poster Contest
and to support
Freestylee
, a brand of his own creativity. Over the last 7 years, 'Freestylee' created more than 500 posters. These visual narratives explore the many facets of global struggles of the underclass. 'Freestylee' believed in giving back to the community and the world through what he called Creative Activism and Social Design. His poster designs possess a modern liveliness,  with exuberant and colourful imagery, accompanied by forceful illustrations. He used poster art to express solidarity with  or protest against issues that he felt passionate about: global poverty, racism, anti-war, migration policies, peace and justice.
Michael's sudden departure from life is an unfortunate loss not only for his friends and family but for the whole art community and the wider society. Michael taught us to give with our hearts and we would see trees blossoming. He taught us to care for each other and look beyond our neighborhood. To love without borders. His actions and artworks are a testimony of his words. Let's try to continue what he started and pass this legacy to the next generation.
He was a wonderful friend and the best business partner I could ever ask for. He helped me to see within myself, he taught me LIFE. We spent countless hours speaking of reggae, Jamaica, Greece, Mexico, different civilizations, truths and lies of world history and the need to create a world without borders and discrimination. We met online in late 2011 and our friendship stood strong until the last day. His appearance in my life was a blessing, a beautiful song like those of Barrington Levy, one of his favourite artists. Your voice sounds still vivid in my ears Michael.

I never thought that there would be one day I would design YOU Michael Thompson​...

At least I hoped you would be alive to see it...


You had been a great, best friend and the best partner I could ever ask for...
Enjoy your last trip
Until we meet again...
-------
© Design-Copyright 2016 • Maria Papaefstathiou.
All rights reserved.
(maria.pap@graphicart-news.com)
Webiste: www.itsjustme.net