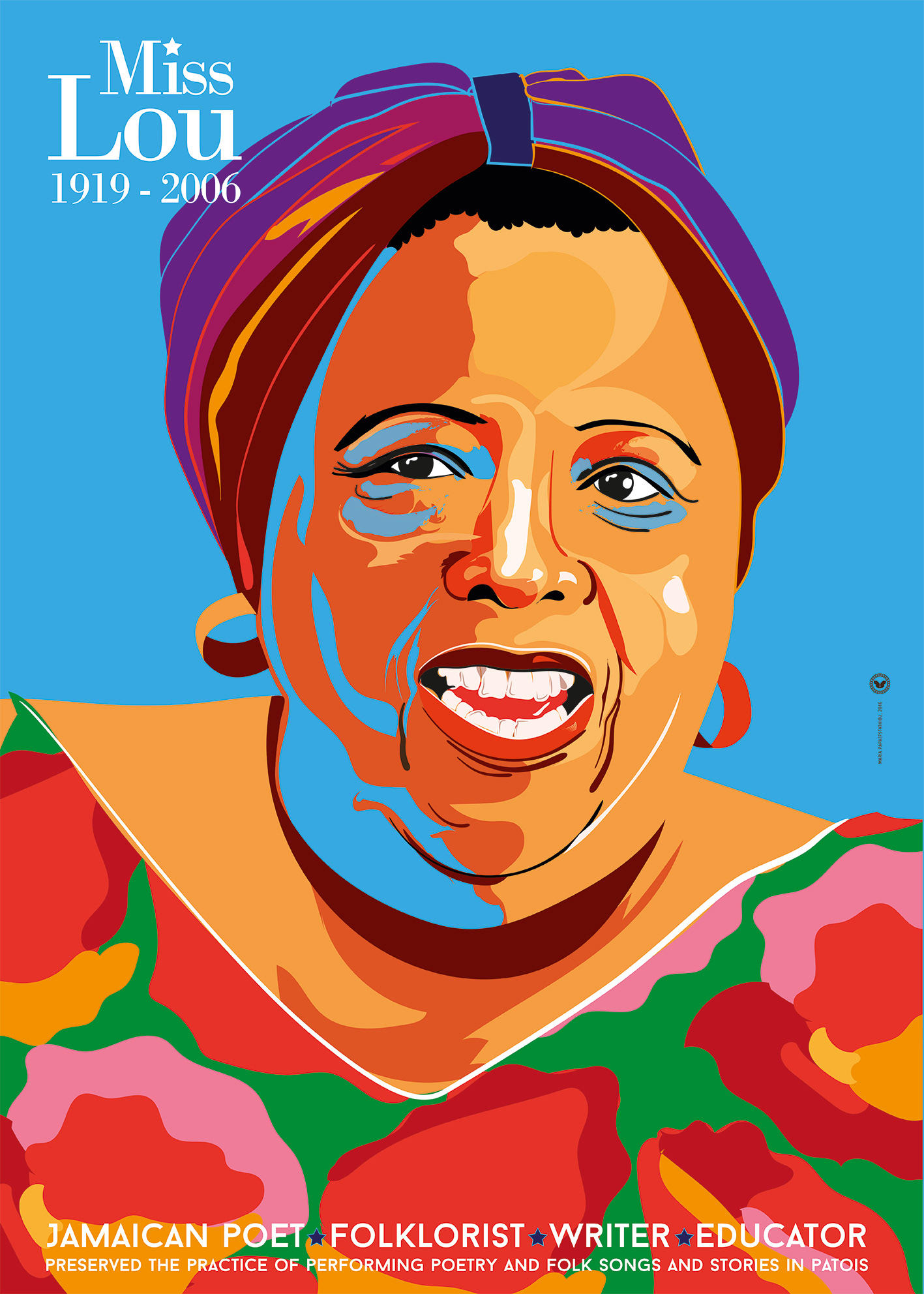 Portrait was designed as one of four awards to be presented at the 2nd annual Palaver International Literary Festival in Wasaga Beach, Ontario, Canada, August 6 and 7.

Today marks the 10th anniversary since the passing of Jamaica's legendary folklorist, actress, vocalist, comedienne, and social commentator, the Honourable Louise Bennett-Coverley O.M.

A great cultural icon, Miss Lou championed the movement to get Patois officially recognised as a language.

Dr Carolyn Cooper, professor of literary and cultural studies at the University of the West Indies, Mona : "Louise Bennett played many roles - poet, storyteller, folklorist, playwright and actress. One of her most important contributions to Jamaican society is helping us appreciate the value of our local language. If she were alive today, I'd tell her, 'Nuff thanks, Miss Lou, fi tek shame outa wi eye an mek wi proud a wi culture'."

Fabian Coverley, son of the late Hon. Louise Bennett, receives the Palaver award acknowledging the great legacy of his mother.
Caribbean culture is unique for its diversity and vibrancy. The perimeter lands of the Caribbean Sea have cradled a diaspora of world cultures and nationalities for more than 500 years. Retentions in art, literature, music and religion have been woven by time into an enchanting tapestry of colour, sound, ethnicity and shared experiences; described eloquently by gifted lyricists and celebrated writers, each a product of this enchanting tropical potpourri that has produced some of the world's finest artists, athletes, novelists, poets, scientists, and statesmen.
Palaver celebrates this vibrant, complex Caribbean culture and offers, each year, in a morsel, but a taste of its richness and flavour.

© Design-Copyright 2016 Maria Papaefstathiou.
Some rights reserved.
Webiste: www.itsjustme.net 
THANK YOU!